Goodness, is this recipe super simple. It tastes so much better than what I could find in our markets. It's simply pure organic almond milk, no weird gums, binders, or synthetic vitamins. A nice alternative if you would like a dairy free option for drinks, recipes, etc.
Bonus: Soaking the almonds neutralizes the phytates the bind the minerals from being absorbed and allow for easier digestion.
Note: It's normal for homemade almond milk to separate when stored in the fridge, just shake the bottle and you are good to go. I find it keeps great for at least 2 weeks. I haven't had a batch not get used sooner than 2 weeks so I'm not sure how much longer it will keep.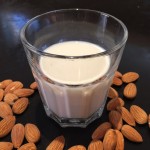 Almond Milk
I love drinking this cold out of the fridge. Our family enjoys it with our herbal coffee, smoothies, and even in our fruit popsicles . Ideally, try to find fresh raw organic almonds if possible. We store ours in the freezer to keep them from going rancid or bitter.
Total Time
8
hours
10
minutes
Ingredients
2

cups

almonds raw

better if unpasteurized

4

cups

filtered water

1 to 2

cups

filtered water to soak almonds
Instructions
Place 2 cups of almonds in a glass jar (I use a mason quart jar).

Cover with filtered water with a couple of inches over the almonds as the almonds will expand.

Cover and let sit 8 hours or overnight.

Drain almonds and rinse with filtered water.

Add four cups of water with the drained almonds. Blend this mixture at high speed in the

Blendtec

or use a food processor.

Strain in small batches through a cotton muslim bag or a very fine sieve. I use this organic cotton

CoffeeSock

.

Squeeze the bag over a clean bowl to catch the milk. Squeeze, squeeze squeeze until you are not seeing much liquid coming through.

Empty the bag of the nut pulp. If you are so motivated, reserve the pulp to bake with. (I'm too lazy and generally compost it.)

Repeat straining more milk. This takes me about 7 minutes to do the whole batch.

Serve warm, cold, and/or add to recipes. Try adding a little vanilla and drop of maple syrup for a treat.