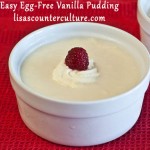 Easy Egg-Free Vanilla Pudding
You might find it easy to believe that egg-thickened custards are vastly superior to puddings made with corn starch ( I use
tapioca starch
). But while they are generally richer and — if made well — considerably more delicate, there are few desserts more enjoyable than a good panna cotta or chocolate pudding, neither of which contains eggs. Puddings thickened with cornstarch are dead easy — practically foolproof, in fact — and fairly quick. Start with half-and-half (or even cream), or at least whole milk. You can thicken skim milk if you like, but that's like thickening water. Dessert, after all, is supposed to be a luxury.
Ingredients
2.5

cups

half-and-half or whole organic milk

.33

cup

organic sugar

1

pinch

salt

1

vanilla bean

or 1 tsp vanilla extract

3

tbsp

organic tapioca starch

2

tbsp

unsalted organic butter

softened (optional but really it makes it delicious)
Instructions
Add 2 cups of half-and-half or milk, sugar and salt in a small or medium sauce pot over medium-low heat. If using a vanilla bean, split in half lengthwise and scrape seeds into milk or half-and-half using small sharp knife, then add pod. Cook just until mixture begins to steam.

Combine tapioca and remaining milk or half-and-half in a bowl and blend; there should be no lumps. Fish pod from pot and discard. Add tapioca mixture; cook, stirring occasionally, until mixture starts to thicken and barely reaches a boil, about 5 minutes. Immediately reduce heat to very low and stir for 5 minutes or so until thick. Stir in butter and vanilla extract, if using.

Pour mixture into a 1-quart dish or 4 to 6 small ramekins or bowls. Put plastic wrap directly on the pudding to prevent formation of a skin, or do not cover if you like skin. 4. Refrigerate until chilled, and serve within a day, with whipped cream if you like.
Recipe Notes
To make chocolate pudding, shave or finely chop 2 ounces bittersweet chocolate. Stir into pudding with the butter.