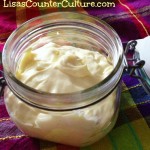 Magic Mayonnaise
It is important that all ingredients are at room temperature. This mayonnaise is one of my favorite condiments since it can be the base for so much. Add it to salad dressings; add some to fresh shrimp or hard-boiled eggs for a salad. Serve it with fish, chicken and burgers. Experiment to find your favorites. As long as you don't heat it, the cultures/probiotics are retained. Choosing the right olive oil: A less assertive olive oil makes a mayonnaise that tastes familiar. I discovered that low polyphenols usually translates into less "olive- oily" tasting olive oil. An olive oil with a more mild taste and with a more mild after bite generally gives the best results. I use the 3/4 Liter
Probiotic Jar
.
Ingredients
1-2

large

organic pastured egg yolks

no whites

.5

tsp

salt

2 grams superfine grind, more to taste

1

tbsp

filtered water

1.5

tbsp

lemon juice

add more to taste at end

1

cup

olive oil

choose light and non-peppery

optional

pinch

mustard powder, pepper, and/or garlic
Instructions
Combine yolks, salt, water and lemon juice into a Blendtec or blender. Blend for 15 to 20 seconds.

Add the oil slowly while the processor is on. It helps to measure out your oil into a cup that pours well in a wire-thin stream.

When the emulsion becomes creamy, increase the speed with which you add the oil in a thin stream.

When all the oil is incorporated, add remaining lemon juice to taste. If the mayonnaise is too thick, add some filtered water. Taste and adjust seasonings if needed.

Add to the

Probiotic Jar

and close the lid. Add airlock with water and ferment at room temperature (if below 74°F) for 3 to 4 hours in the jar with airlock away from direct light. Move to fridge.
Recipe Notes
If the mayonnaise breaks or doesn't emulsify, don't despair. Reserve the blended ingredients into a cup. Add another yolk to the mixer/processor and try again.