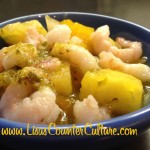 Pretend You Are In Hawaii Pineapple Chutney
As many of you know, I am in love with Hawaii. So this is my pretend I am in Hawaii recipe that I was inspired to make since we are having a little heat wave here in Northern California. I love warm weather! So here's my newest love, Pretend You Are in Hawaii Pineapple Chutney. And the best part is adding the sweet bay shrimp for a delectable cooling and protein packed meal. For use with the 1 Liter
Probiotic Jar
. Feel free to scale this recipe up, it's that good!
Ingredients
3

cups

pineapple

or mango would also capture the Aloha spirit

.5

small

red or Maui onion

minced

.5

orange or red bell pepper

chopped

.5

cups

chopped cilantro

8

grams

salt

.25

cup

fresh lime or lemon juice

1

tbsp

grated ginger

.5

red chili pepper

or less; fresh or dried, no seeds, finely chopped

.5

cup

water

as needed to keep the contents submerged

.5

cup

fresh bay shrimp

or chopped larger shrimp for serving
Instructions
Mix all ingredients except for water; add to 1-Liter

Probiotic Jar

. Push mixture down with gentle pressure, trying to eliminate air pockets. I like to puree the 1/2 the cilantro, onion, lime juice, salt, ginger, and 1/3 of the pineapple to make the juice for the chutney rather than smashing down the ingredients to release the brine. If you don't have a way to blend it than skip this alternative route.

Add water, and again push ingredients down (or use a chopstick, poking down through brine, releasing trapped oxygen). The contents of the

Probiotic Jar

should be shoulder-high as the chutney will expand.

Ferment at room temperature (if below 74°F) for 5 to 14 hours with the airlock. Move to fridge. Ferment away from direct light. If warmer than 74°F, then ferment in fridge with airlock for 24 hours.

Before serving, add the cooked shrimp. Enjoy!