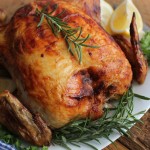 Super Simple Slow Cooker Chicken
This takes about 5 minutes to prep! It's amazingly easy and tender. You won't need a knife to carve it. Mine usually falls apart as I remove it from the slow cooker. If your slow cooker is large enough, cook two chickens and use the leftovers for lunch.
Ingredients
3-4

lbs

whole chicken

about 3.5 pounds

1

large

onion

coarsely chopped

2

tsp

salt

4-5

cloves

garlic

Insert into the chicken cavity and/or under the skin

2

tsp

paprika

1

tsp

garlic powder

1

tsp

ground pepper

2

tsp

oregano
Instructions
Wash and dry chicken (be sure to remove neck and giblets if needed).

Combine spices in a small bowl. Run spice mixture over chicken and even under the skin.

Place chicken breast side up in slow cooker. No liquid is needed. The chicken will make the gravy over the onions as they caramelize.

Cover and turn on high. Cook for 4 to 5 hours. Baste if you want.
Recipe Notes
Get fancy: Insert a halved lemon to the chicken's cavity with a few garlic cloves. I like to surround the chicken with a few mushrooms and small potatoes during the last hour.
Get basic: Omit other seasonings and only add the onion for the bottom of the cooker and a few cloves of garlic inside the chicken. Salt and pepper to taste.