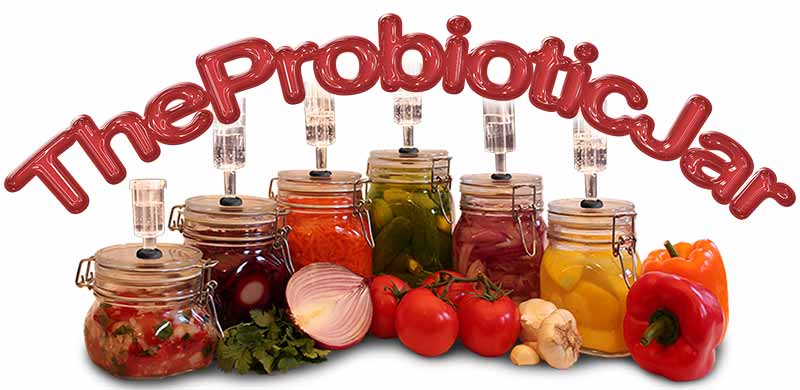 The Probiotic Jar is a fermenting system that is precisely constructed to provide an anaerobic environment for lactofermentation. This is is essential in almost all home ferments. The only time that I do NOT recommend using this system is for ferments that do require oxygen (kombucha, vinegar, and natto).
I'm always trying to delve deeper and deepen my understanding of fermentation and then share what works. Many, many moons ago when I first started fermenting in mason jars (as advised in the book, Nourishing Traditions), I had all sorts of problems. Inconsistent batches, mold, yeast overgrowth, soft batches, over-fermented batches, salty batches, ferments that no one wanted to eat, ferments that tasted ok but gave me digestive issues, and the list goes on and on. I tried all sorts of techniques and variations; I tried using more salt, less salt, no salt, starters, whey, lid screwed on tight, no lid but covered with cloth, you name it — most likely I tried it. Needless to say, there were many sad results and much wasted food.
Then I discovered anaerobic fermentation and the science behind it. That's what led me to pay attention to the vessel and the co-factors like duration, salinity, light exposure, temperature and the quality of the ingredients.
My passion to share these findings as well as other unconventional nutritional-related insights inspired me to start Lisa's Counter Culture. As my small business grew, I took joy as my clients successfully made and healed with with their homemade ferments. I compiled all the recipes and techniques in my cookbook: Lisa's Counter Culture: Pickles and Other Well-Bred Foods. (But keep an eye out for an awesome revised version with all the latest tricks and recipes coming soon!)
I'm going to focus on the fermentation vessel or jar in this post. The quality of the fermentation jar is critical. The jar MUST have a tight seal with a properly fitted airlock that allows excess fermentation gases to escape but prevents new air from entering the system during the active fermentation period. Enter the Probiotic Jar system. This company has been able to engineer a lid that uses a combination of unique processes including special computer-controlled grinding equipment and finishing with hand polishing that results in a smooth rounded edge that will not cut the grommet under normal use. A truly smooth hole with a polished edge, sized perfectly right down to the half-millimeter is guaranteed with each and every lid.
Here are a few more details on the materials (from the Probiotic Jar website):
The Stoppers and Grommets are made in the USA from FDA Food Grade Silicone. It meets the highest standards for flexible materials that come into contact with food.
The Jars and the Brine (Submersion) Bowls are made from high quality Bormioli Rocco Fido glass and is lead and cadmium free, made in Italy.
The Brine (Submersion) Bowls are tempered for additional safety.
The Gaskets are made in Italy from Food-Grade Rubber/Silicone.
The Airlocks are made from Food-Grade Polystyrene. The 3-Piece Airlocks are made in Canada, and the 2-Piece Mini Airlocks are made in Columbia.
The Bale Wires are steel. They do mar easily so hand washing is recommended as is immediately drying to preserve the shiny finish.
All the materials used in The Probiotic Jar are lead-free, cadmium-free, phalate-free, BPA-free, and are Food Grade, of the safest and highest quality materials possible.
The Brine (submersion) Bowl is a brilliant improvement over using flat glass weights. It decreases the surface area initially exposed to air during the more vulnerable initial period of active fermentation and keep the ingredients submerged below the brine. These are surprisingly useful on ferments such as salsas and chutneys. In my earlier ferments, I never found the flat glass weight to be very helpful with my ferments.
A unique feature that I truly appreciate is the "pop" sound (pressure release) I hear every time I open my Probiotic Jar. This happens even when I'm using a stopper for storage. This assures that the seal is truly airtight.
I am so impressed with the Probiotic Jar system and design that I have partnered with this company to write the recipes in my cookbook.
A revised, improved version of my cookbook is available. Additional recipes from me and from some of my favorite fermenting friends are included as well as many other nutrient-dense foods to eat with your ferments! Rest assured that I am happy to support your fermenting journey for whichever anaerobic jar system you are using. I'm excited to see what the future will bring.
Note: Images courtesy of WellnessAK